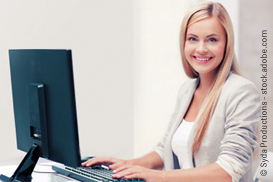 IT & Rechnungswesen
Digital Transformation
In order to remain competitive in the future, there are a few requirements to fulfill. Among other things, the range of services must be embedded in a digital system, communication and distribution channels must be digitised and constantly re-open...
Mehr anzeigen
Important information

You will find all the important information you need to complete the e-Learning programme here.

Module 1: Is your company ready for Digital Transformation?

Content: The 3 Megatrends that cause Digital Transformation Digitisation: Living in real-time Why connectivity changes everything Mobility: welcome the digital nomads Why digital disruptio...

Module 2: Managing Digital Transformation

Content: The "digital triple jump" Inbound marketing and the art of listening Markets are conversations The digitisation of logistics How to build a smarter factory How controllers do th...

Module 3: Big Data - Big Opportunities

Content: Big data and how to predict the future The perfect market Every customer is a target group Why loyalty pays - for both sides Technology vs. humanity

Module 4: Generation Now and the Future of Work

Content: Understanding Generation Y The war for talent in an ageing of society How to be a knowledge worker Where do the best ideas come from? Will robots steal our jobs?

Module 5: Pulcinella's Secret - Privacy in the age of WikiLeaks

Content: Privacy in the age of the internet What is informational self-determination? Privacy as a business model Security through compliance Pulcinella's secret Life in the digital vill...